HAPPY MONDAY!!! Below please find the post that I did over at The Everyday Scrapper.
----------------------------------------------------------------------
Thank you for stopping by this fine Monday morning. I hope you had a great weekend, & are as excited for for the summer as I am, as the first day of summer is today. As you read this, I am sitting on the beach with my toes in the sand. Aaahhh, summer vacations! :o)
Today I have something for you that is so easy & fun, that the best of the best, or the newest of scrapbookers can do it. Have you ever scrapped a layout with nothing but some cardstock & a sheet of stickers? Sounds challenging, right? But it can be done. See: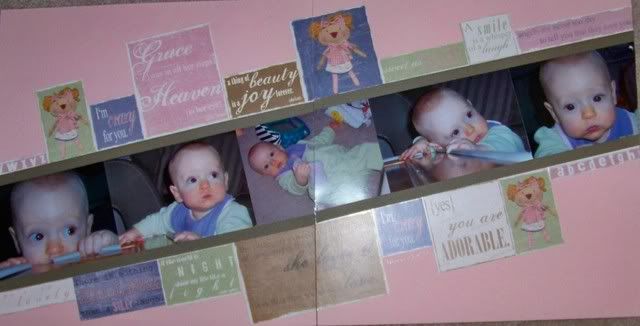 Now, I did use some scrap paper as a border between the pictures & the stickers, but it was that simple. (I apologize for the clarity of the picture, for some reason my camera wouldn't focus right on the stickers).
If you give this a try, or have ever done something like this before, please head on over to the forum & share with us your creations. We love to see what you come up with.
Thanks for stopping by today! I hope you have a wonderful week!