We are so close to Oscar time that we decided to do a themed blog hop to present to you our new design team members (
THAT'S ME!!
!). This blog hop will have 9 stops in total, and in all of those stops, our design team members will be sharing with you a tip or giving you a challenge. There will be prizes drawn from those that submit their entries to the blog hop challenges by midnight Monday, March 8th CST. You NEED to submit your entry for the blog challenge, as a comment, to the design team members blog post. (example: If you are doing Vicki's challenge, then you need to leave Vicki a comment on her blog post with a link to your project). Sign up to "follow" our blogs and you might win a prize. ;o)
Our red carpet order is as follows (if you happened across this post by accident, please be sure to go back & visit the Crop Stop's blog to start, so as not to miss a single thing!!):
1.
CropStop
2.
Vicki
3.
Elisabeth
4.
Jessica
5.
Gloria
6.
Lisa
7.
Stacy
8.
Anneliese
- <<== YOU ARE HERE
Now, let's walk down the red carpet & see what I have in store for you today.....
I have decided to go w/ the movie, "The Story of Us". Now, I know that this movie is not necesarily a happy movie, however, my husband, kids & I ARE happy. We adore our kids, & always have fun no matter what we do. & although I may not tell my husband as much I should, he is my rock! I love him, & my girls, with all of my heart & soul. So, this story is about US.
Those of you that know me, & I say this often, know that I LOVE sketches. So, I decided to use this months sketch challenge at Crop Stop for my lo & card below. You can find the thread with the sketches
here
. Please be sure to check it out, & of course, post your lo should you chose to accept the challenge. Sketches are a great way for inspiration, or just a push to help you get started on a lo if your mojo isn't flowing.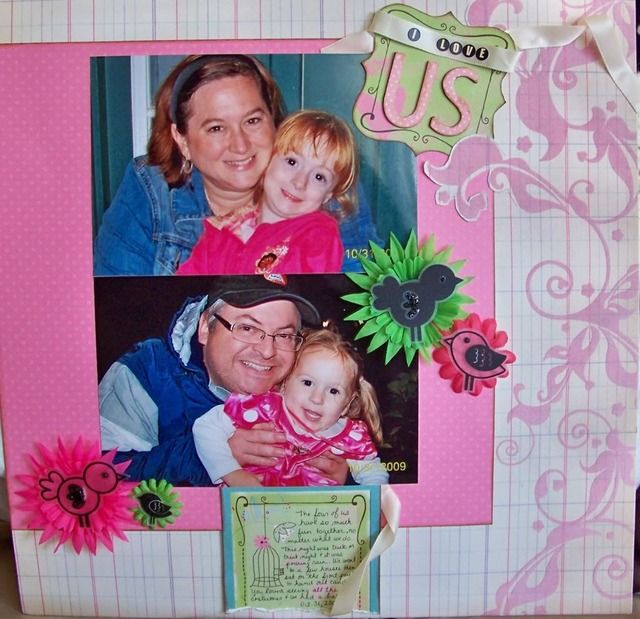 The pictures in the above lo are from Halloween 2009, when we went trick-or-treating in the pouring rain. We didn't go to many houses, but we did wind up sitting on the porch & had so much fun just handing out candy & seeing all the costumes everyone was wearing.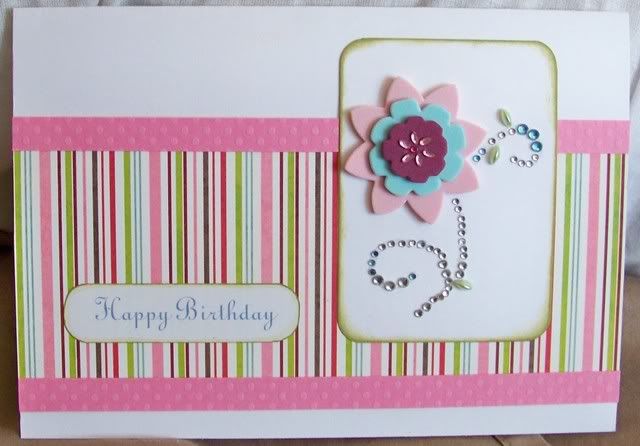 The stem of the flower on this birthday card was made with rhinestones that were in the form of a word. It was a French word, that had been sent to me as a RAK. Since I am not French, & probably would never have used it as that word, I took it apart to form the stem for the flower. (check out the sketch for this card in the Crop Stop forum).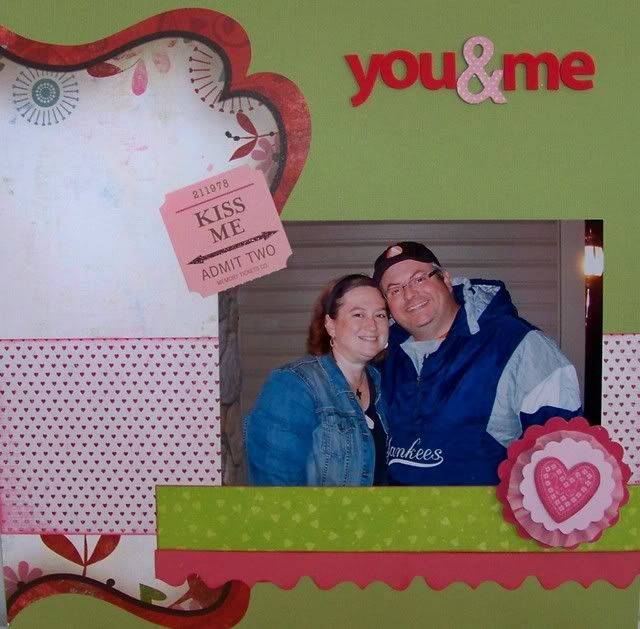 And here is a lo just because. It is a pic of me & my dh from the same Halloween night, so I thought I would share it. We don't have too many pics of the two of us.
-----------------------------------------------------------------
Have you heard? The Crop Stop is having an online crop next Saturday, March 13th, from 8am - 4pm est! The Creative Team will have lots of challenges & games ready for you, so be sure to join us! Can't wait to see you there! Check out the details
here
.
I am also offering a RAK for the hop today! If you become a follower of my blog, & leave me a comment w/ your favorite movie of all times, I will chose a random winner for a RAK from me!
One last thing... would you like a coupon to enjoy a discount on your order of $20 or more. (coupon code: OSCAR) expires March 10th. Happy shopping!!
Now head on over to Dalis' blog, the last stop on this fabulous hop!
Thanks for looking! Enjoy the rest of your day!