Good morning! It is a happy day for me! In about an hour or two, my girls will be with my parents, & Tony & I are going on a long awaited cruise to celebrate our 10 year anniversary (which was in March). It is just a 4 night cruise, but we are so looking forward to it! Just the two of us, phones left at home, & just enjoying some time along, together.
On another note, I don't think that I have mentioned to you that the Grassi's have made a very big important decission. Tony has accepted a job/promotion in Houston, so by the end of the year, we will be relocating to TX. Big news, right?? This is a very wise career move for him. Once there, the sky is the limit & I am pretty sure that he will climb the corporate ladder quickly. (he has already been promise another promotion w/in the year after we get there!!). Please keep us in your prayers as we begin this very difficult, yet exciting journey.
On another note, my sister got engaged!!! Isn't that fabulous! I am so happy for her & Noah!! You can tell just by listening to her, & watching her, that she is truly in love & has found her perrfect match! Congratulations, seestor!! I am so thrilled & excited for you!!
Now, onto the crafty stuff. We had a super busy July, so I haven't had much scrappy time, besides the
Hamburg Hideaway
, but this past Friday I did go to the CK Convention. I went by myself this year, so I decided to pick up a few classes. I took the
Embellish It
!! class & really really enjoyed it! It was fabulous. I did 4 layouts & learned 12 techniques! The hour flew by! Then I had taken another class, & was so disappointed. The entire class was spent talking about their product & pushing sales. We were supposed to do 4 double page layouts & 2 cards. I walked out of there with the kit in had as it was handed to me....in pieces! So dissappointing. After I return from my cruise, I will be sending an email to CK. That is how strongly I feel about it. After the convention, I went to a crop at my fave lss,
Scraptacular
. I was able to get in some scrappy time & finally get my
From Here 2 Scrapternity
creations done. With that being said, here is what I created with my supplies for July from
FH2S
:
I used one of the new techniques that I learnd at the convention (in the good class). I fussy cut flowers from pp & then s lit in between the petals to the center. Then I pinched the petals of the flowers up, to create a dimensional look. Voila!
The pictures are of me & the girls, & their friends last summer when we went to Sonic for an outdoor movie.
--------------------------------------------------------------------------------------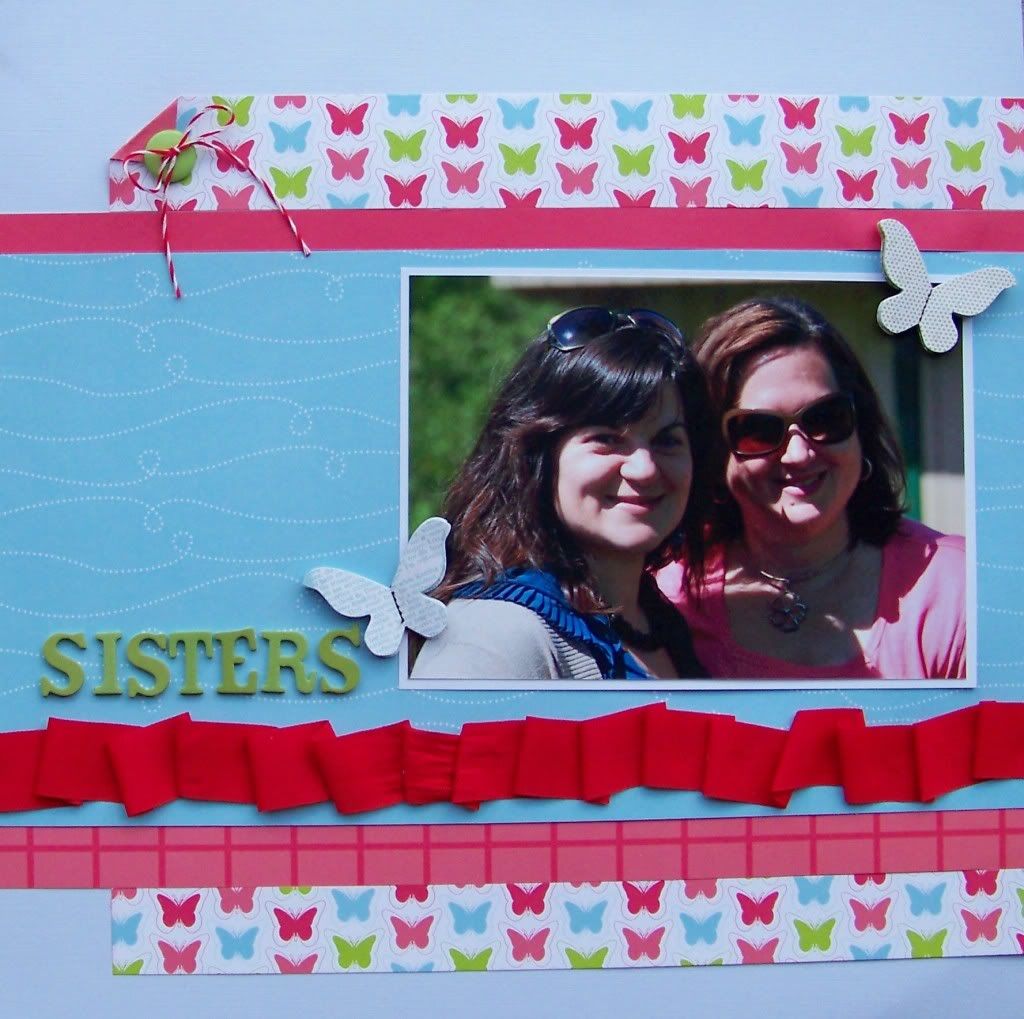 This layout is of my sister & I in April of this year at Emma's b-day party. We don't have very many pictures of us together, so my friend had taken this shot. She will make a beautiful bride, won't she?
Thank you for stopping by today! I am signing off until we get back. I have a few posts scheduled while we are gone, so please stop back to say hello.
Have a great weekend everyone!