Being on the
Nuts About Sketches
design team again is awesome! First of all, Shawn's sketches are always great! & secondly, that means that I at least get to do one layout a week! I have 6 that I have not shared on my blog yet, so I will start with 3, & give you the others in another post. But here are 3 of my creations using Shawn's sketches:
#127
Emma & Tony in 2005. The first time she ever made daddy proud by wearing a Giants cheerleader outfit. She looked so stinkin cute!
#128
This was Emma, way back when - again, just messing around in her room. She was so content that we let her go & took lots of pictures.
#129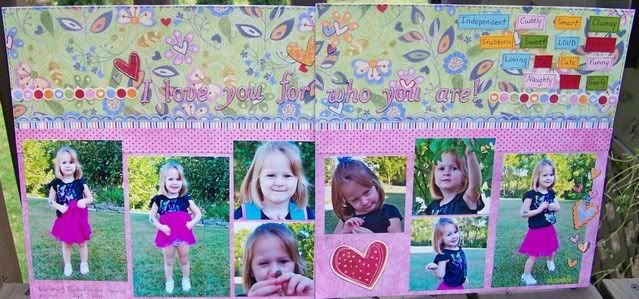 & this is my cutie-patootie, Audra, this year on her first day of the 3-year program at preschool. She was being all silly & posing & making cute faces, & I was able to capture all of her personality.
Thanks for stopping by today. I hope you enjoyed my layouts. Stop back tomorrow for some more of my projects...... I'm on a posting roll. lol.