Yes, we are doing it again!


In honor of World Card Making day, CropStop is hosting a progressive blog hop! Starting with the Cropstop Blog, you will visit each of the Cropstop Crew Member Blogs listed below and leave a comment on their creative project. Then, you will have one week to complete a project of your own, using one or more of the products featured in the CropStop Crew Member Blogs and link it in a reply box on the Cropstop Blog. Show us how you can mix and match the products, that the team is using, in your project, and if you don't have an item, then show us your inventive side with a smart substitution. You do not have to use all the items the ladies are using, but show us how creative you can be. The deadline for linking to the CropStop's "Around the World" Card Making Blog Hop POST is Saturday, October 9th, at midnight Eastern time.
The winner will be chosen by random draw of all that participate and link to the CropStop Blog.
Second and Third prizes will be a $10.00 Gift Certificate to the CropStop Store.

Now if you happened across this hop in the middle, please be sure to go back and start at the beginning, at the Crop Stop Blog. We don't want you to miss a thing, as these ladies have some wonderful cards to show you!!

So you don't get lost along the way, here is your map around the world:


------------------------------------------------------------
****YOU ARE HERE****
7. Anneliese/ Cuttlebug/Liquid Pearls/Stickles
http://www.queen-of-the-crop.blogspot.com/


------------------------------------------------------------


WORLD CARD MAKING DAY...


World Card Making Day began in 2006 as National Card Making Day. Founded by Paper Crafts magazine to bring card makers together at the beginning of the busiest card-making season of the year, it was first held on October 7, 2006. The initial celebration involved the Paper Crafts magazine audience only; however, due to the positive response it received and the worldwide popularity of card making, the holiday became known as World Card Making Day from then on.

Celebrating its fifth year in 2010, World Card Making Day is celebrated annually on the first Saturday in October. It's a day for the card-making community -- hobbyists, retailers, and manufacturers -- to unite and celebrate the connection and creativity that is the heart of card making.

Now, comes the good stuff! This is what I have created for your viewing pleasure. On this card I used the
Polka Dots
& the
Stylized Flowers
Cuttlebug folders, as well as Opal
Liquid Pearls
, & Burgandy
Stickles
. For those of you who know me, know that
Stickles
are my favorite scrappy item! I think I use them on almost every project. No joke!!!
Of course, you can find those items in the
Crop Stop
store by clicking on the links above.
I also made a few other cards recently, & thought I would share them with you as well. I hope you don't mind, beings that it is World Card Making Day & all. ;o)
For the one below, I used the
Polka Dot Cuttlebug
folder also .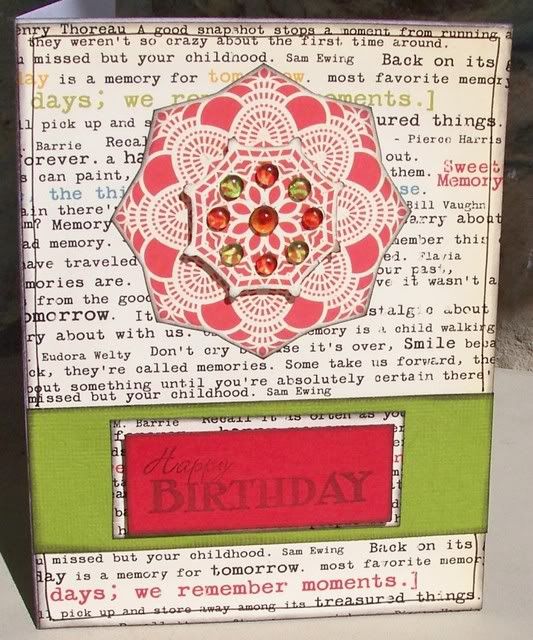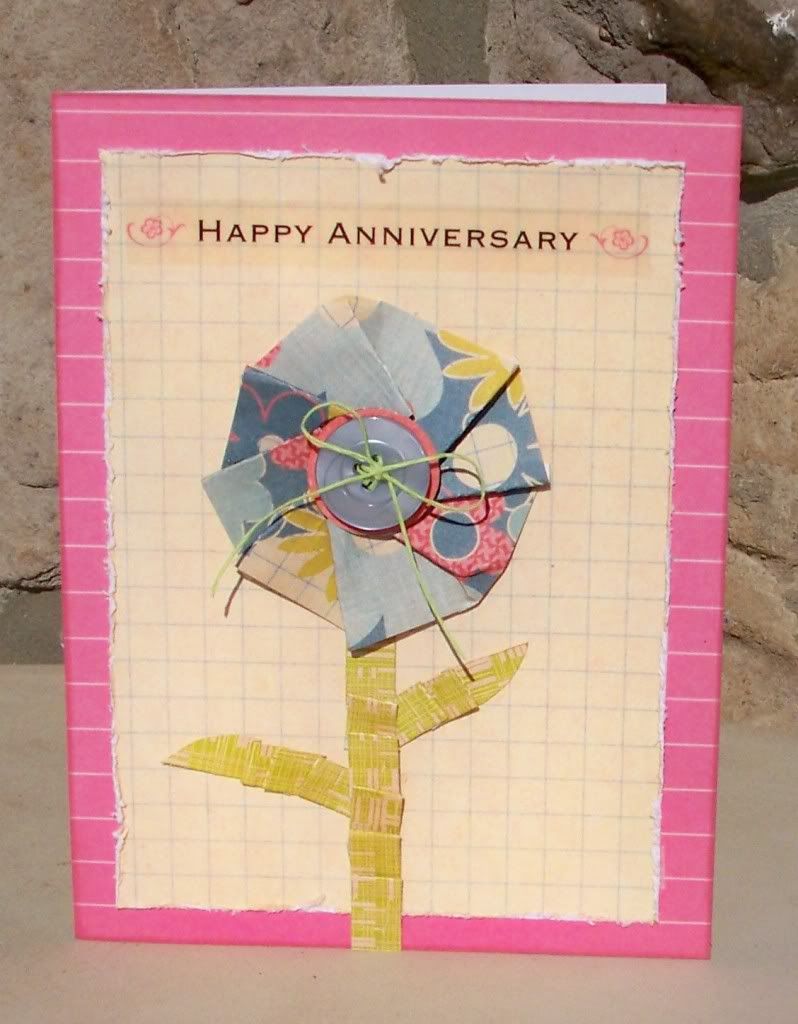 Please come back to visit my blog, in the days ahead, for a tutorial on how I made this pleated flower on the anniversary card.
Well, I hope that you enjoyed what I had to share with you today. You will now want to hop on over to your last stop along the way, to the very talented
Vicki
.
If you become a follower, & leave me a message, you will be entered to win by random draw, 1 Liquid Pearls, 1 Stickles, AND a Cuttlebug Folder.
Oh yeah, if you happen to do some shopping at the
Crop Stop
store, tell them that I sent you! Use the code "AnnelieseB" on your order at check out to receive a 10% discount on your purchase of $30 or more.
Thanks for stopping by today! Have a fabulous weekend, & Happy World Card Making Day!!!