As you may or may not know,
From Here 2 Scrapternity
(a Christian, non-store, scrappbooking forum) is having an online crop going on right now. Pam was a little late getting it up & running due to work commitments, so she has extended the dead line until August 26th, 11:59pm PST! If you haven't checked it out yet, please head on over there now & join in on the fun. There are great challenges, & a few games, & lots of prizes! I posted a recipe challenge:
2 pictures
a banner
3 different patterned papers
at least 3 brads
a ticket
a title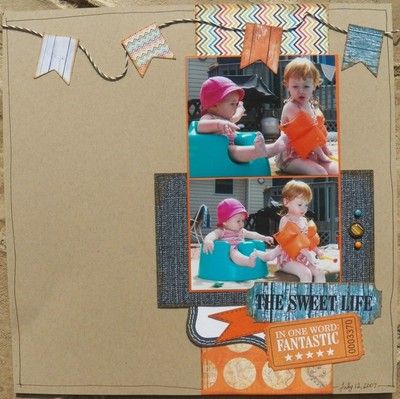 The layout that I created is of the girls in 2007! They are ages 2 & 5 months! (Boy am I far behind!). We were at my aunt & uncle's pool, as we always were in PA in the summers.
I used the supplies from a
Memory Works
kit.
Head on over to the
FH2S
boards & check out all the fun! I am offering a prize for my challenge, so be sure to post in the appropriate thread to be eligible for a great prize from me. I also noticed, that one of the gals posted a kit as her prize!! & as long as you do just one of the challenges, & "sign in" on the crop page, you will be in the drawing for a grand prize. You don't want to miss this. Be sure to tell them that Liese sent you! ;o)
I hope to see you there!