The
From Here 2 Scrapternity
monthly crop is starting today, & I am so looking forward to it. I say this each & every month, but it is an awesome crop! The challenges are fun, the prizes are awesome, & the group of ladies is the best! If you have some time this weekend, join me over there for the fun & games.
This month, Pam asked the members of the forum to come up with the challenges, so this will be quite interesting. I can't wait to see what all the ladies have in store for us. The challenge that I am hosting is:
Lucky Recipe:
Please choose at least 5 of the following items to create your layout!
vellum
mesh
chipboard
3 flowers
2 tags
faux stitched
bling
border punch
& here is my example of my challenge, using the supplies from
FH2S
for March.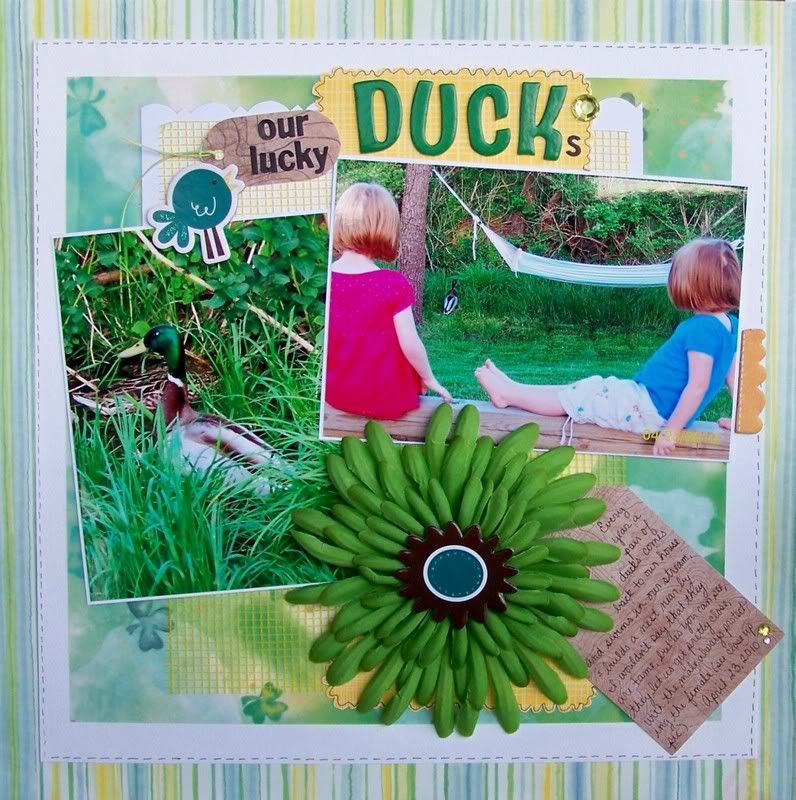 (Every year a pair of ducks comes to visit us. I wouldn't say they are tame, but they do let us get pretty close. The male always protects the female, & they set up a nest nearby. They swim in our stream, & it is always fun to watch for them each year.)
Again, I hope that you will join us for some fun over the weekend. You have until Monday 11:59pm PST to upload your completed challenges. I will be sure to share with you my creations from the weekend.
Happy Friday!!!